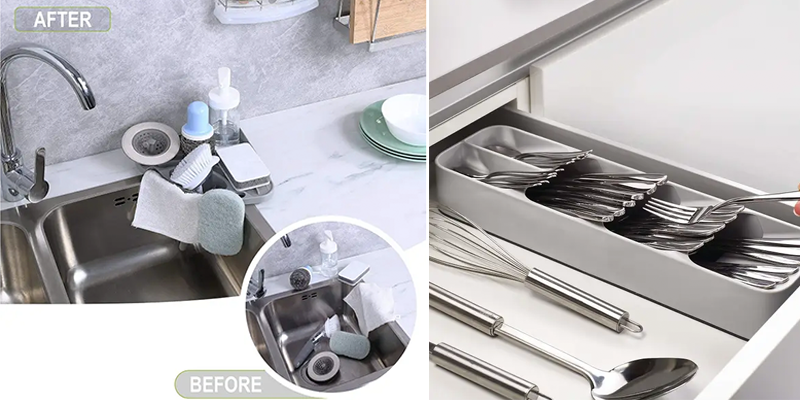 10 Small Tips To Make Your Kitchen Look So Much Better
Aug 14 2022
1.
Organize your hand-washing essentials with a corner sponge organizer because you need 'em within reach... might as well make 'em look a bit tidier!
This is also a better option than an organizer that hangs over your faucet because the weight of those can mess with your water flow!
Promising review: "This fits our sink perfectly! It's not too big and holds a sponge and two bottles of soap. We have a standard apartment sink and it fits perfectly, it also holds very well. We have it suctioned on the sink, not the counter." —Erin Johnson
Get it from Amazon for $15.99.
2.
Graduate from your mismatched collection to a set of silicone-coated kitchen utensils that are nice-looking but neutral enough to blend in a bit with everything in your kitchen.
Can withstand temperatures of -40 degrees F up to 446 degrees F/230 degrees C. Includes 24 tools and holder.
Promising review: "I love everything matching. Finally got rid of all my mix-match stuff! However, they are SO many items it was too much to fit in my drawer so I put the things I use the most in the drawer and kept the rest in the holder and store them with my pots and pans. The holder is plastic and cheap so this would not be something I'd leave on the counter.
The are super sturdy and sharp looking. AND, they didn't get dirty, black or burnt when scraping up charred food in a frying pan. Cleaned right off of the spatula. Very pleased."
Get them from Amazon for $35.99
3.
Stash all your plastic bags (hey, they make great bin liners plus you have to pay for them now in NYC!) with some plastic grocery bag wranglers light enough to hang on a hook on your wall *or* inside your kitchen cabinet. Just saying, these would look real cute in your pantry.
Tbh, I need one of these. I make my mom give me all her plastic grocery bags because I use them for trash. My personal goal is to never have to buy garbage bin liners again! But I'm a weirdo like that.
Get three from Amazon for $7.50.
Want a sturdier option? Consider this cabinet door bag holder. Alternatively, you can stuff them in an empty facial tissue box!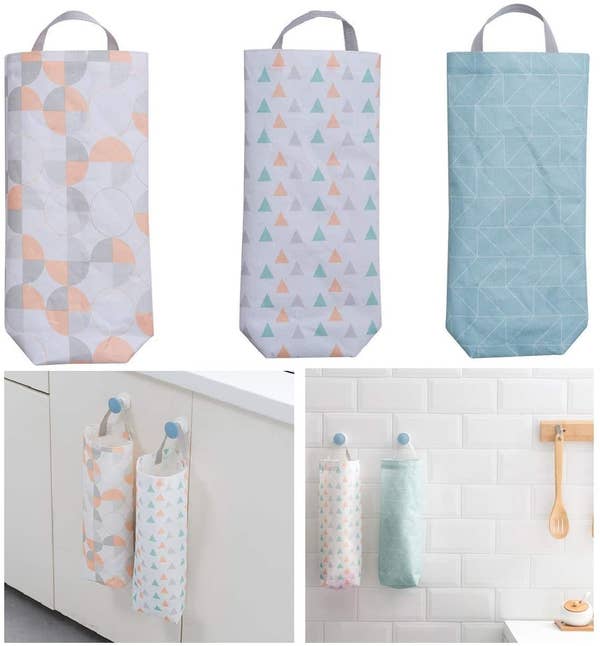 4.
Keep within reach when you cook with a magnetic stove shelf that's the perfect amount of room to keep your most-used spices so you don't have to go digging in your cabinet while the oil is literally poppin' on your stove top.
StoveShelf is a small business, and these shelves are built to last a lifetime.
Promising review: "This is an excellent buy. The shelf helped me declutter my cabinet, and it is an awesome storage space for my more often used spices. It is sturdy, easily installed, and attractive. I recommend this shelf." —Pamella R.
Get it from Amazon for $39.99 (available in six types and three sizes).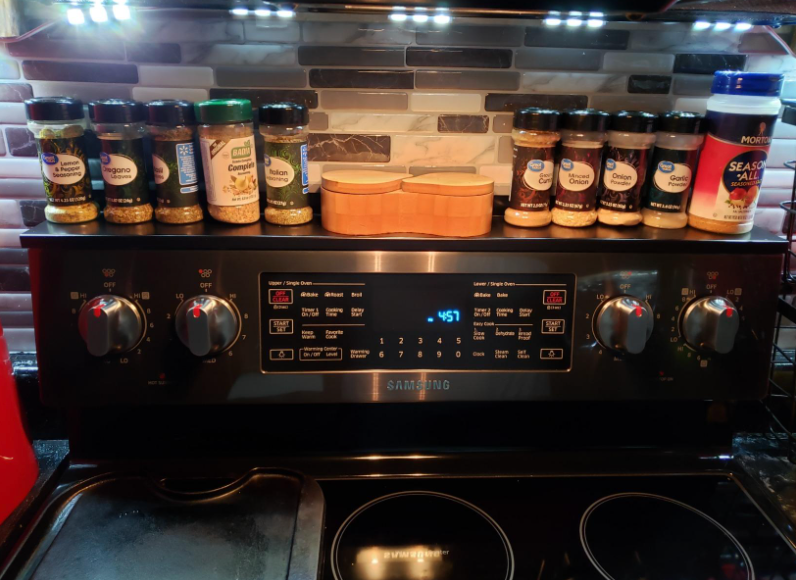 5.
Protect your kitchen essentials from uncecssary wear and tear with some cabinet and drawer liners, even if your kitchen cabinets seem to be older than your grandma.
Promising review: "Very awesome stuff. The bottom of my cabinets had a rough, crumbly texture. This is a great fix to keep the silicone pieces of my dishes from picking it up. Feels a lot cleaner and it looks great! Highly recommend for looks and function!" —Kelsey Ware
Get it from Amazon for $15.99+ (available in six sizes and 19 colors and patterns).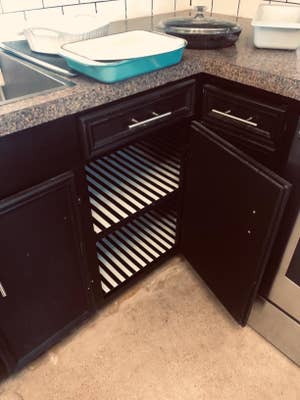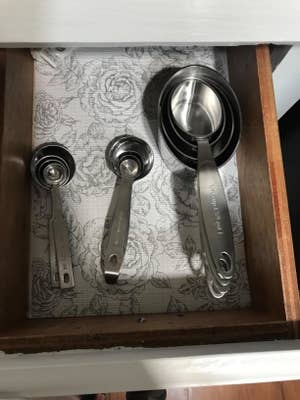 6.
String up some (truly easy) under-cabinet lights to bring a modern touch to any outdated cabinets that you wish you could replace. This'll instantly make your kitchen look *so* expensive.
Promising review: "I had my doubts but I thought, what the heck, for the price I'd give them a try. I am in real estate and known as a lighting snob. The first thing I look at in a kitchen if there is under cabinet lighting. These are so nice (it helps if you have a lip at the bottom of your cabinets) They are a true white, very bright, and I was lucky they were just the length I needed. I just ordered a set and had them shipped to my mom's as her halogen transformer which is buried in a wall, fried and I drives me nuts that the workspace on the counter is dark. I can't wait until I make the 250-mile drive to install them. I may buy more just to use at our listings!" —pauly
Get a 10' strand with 60 lights from Amazon for $18.86+ (available in white or yellow lights).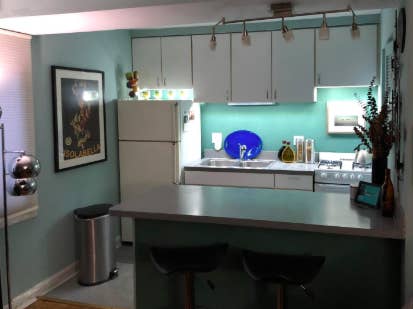 7.
Tidy your kitchen drawers without sacrificing a bunch of your utensils with a slim cutlery organizer here to prove that, yes! You do have room for all your cutlery in your tiny kitchen drawer! Scoot over, forks.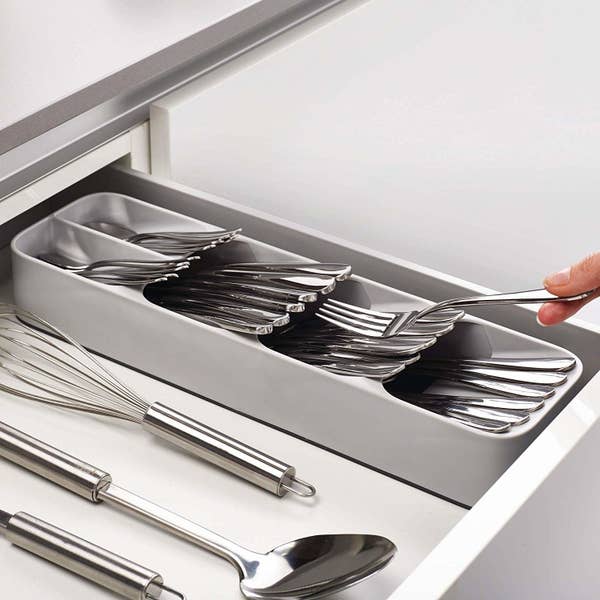 8.
Store your serious cutlery on a magnetic knife strip (it only looks expensive) instead of that clunky old knife block squatting on your kitchen counter.
Promising review: "I used to have an ugly knife block that took up too much room, so I decided to get a magnetic knife strip. I've read that the cheaper metal ones scratch and dull knives, so I went with a wooden one. This company offers different types (colors) of wood to match your decor. It took me all of 15 minutes to install (I have a drill and a torpedo level). Really easy and straightforward installation. The strip itself holds my knives very securely and frees up a bunch of counter space that my old knife block used to take up. The strip works extremely well throughout the length of the product." —Thomas
Get it from Amazon for $34.95+ (available in a variety of lengths and wood types).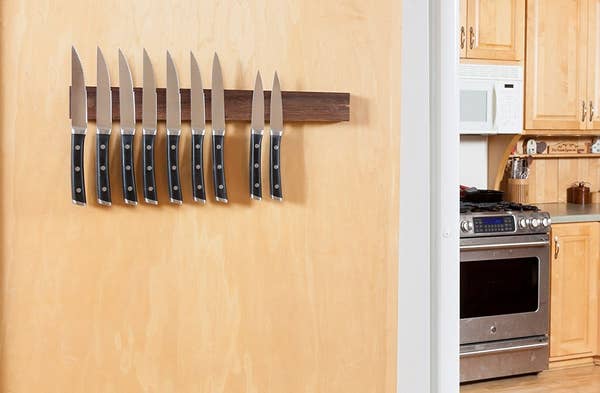 9.
Tidy up your windowsill with a hanging planter that'll fit in your window so you won't have to crowd out essential countertop appliances for your kitchen herb garden.
Promising review: "Love it for my kitchen herb garden. Great when you don't have a lot of space." —Tuesdai Hill
Get it from Amazon for $44.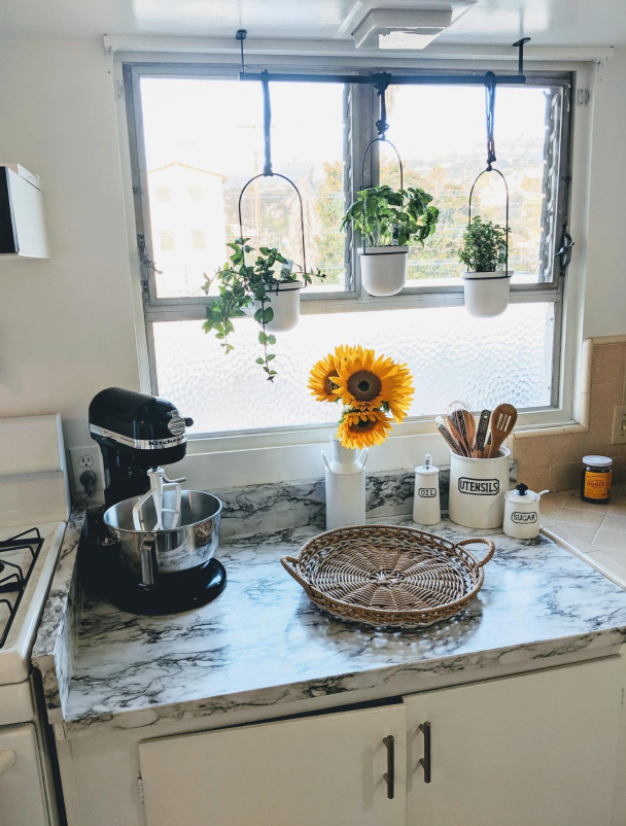 10.
More easily deal with fridge spills and hold onto your produce a bit longer with moisture-absorbing fridge bin liners that aren't a total eyesore. Picture this: Next time your kid knocks over juice in your fridge, thee liners can catch it rather than you having to take a drawer out of the fridge and awkwardly scrubbing it down in your sink. I've done that before and it's not great!
Promising review: "Keeps my refrigerator looking clean and fresh. Especially like the gray pattern which goes nicely with a stainless steel refrigerator. When something spills, It's much easier to wash these pads than scrub your refrigerator. The pads don't last forever but they can be washed three to four times before I recycle them into cleaning rags." —CardFan133
Get a three-pack from Amazon for $6.99.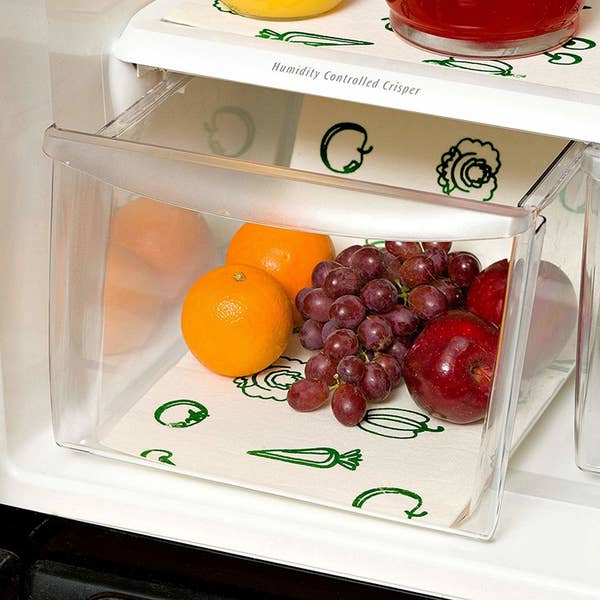 © RocketSquirrel lab