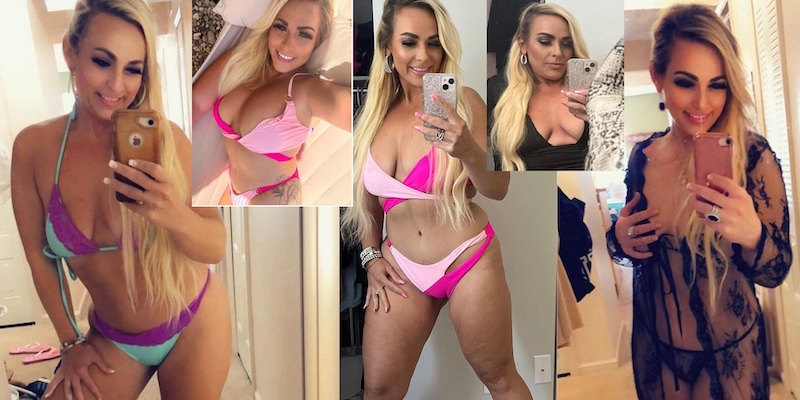 A former teacher who has become an OnlyFans model is now providing report cards to her subscribers.
Mar 07 2023
Sarah Seales, a 41-year-old former fifth-grade teacher from Indiana, has shared how she leverages her classroom experience to profit from her explicit OnlyFans account. Seales, who goes by the name Sarah Juree on the platform, claims that her adult content plays into the "teacher fantasy" of many of her subscribers. She offers exclusive report cards and rates their manhood, as well as awarding "Miss Sarah" stickers to her loyal fans. In an interview with Business Insider, she revealed that she made $17,000 in her first month and a total of $58,000 in six months on OnlyFans. Seales, who was fired from her job at a science academy in South Bend after officials discovered her nude photos, says she found a niche with her hot-for-teacher concept.
Sarah Seales, 41, said she made more money posing nude in six months than her teaching career brought in annually.
Instagram/@sarahjuree
Seales offers a range of explicit content to her paying fans on OnlyFans, including nude photos, explicit videos, and video chats, as well as selling her panties. Along with giving out "report cards" and "teacher" stickers, Seales says that her content has been successful because it caters to the "hot-for-teacher" fantasy that many of her fans have.
After seeing a friend earn $10,000 in a month on OnlyFans, Seales decided to follow suit, but was exposed as an online temptress shortly after joining the site. Despite losing her job as a fifth-grade teacher, Seales has made a small fortune from her adult content, earning $17,000 in her first month and a total of $58,000 within six months, surpassing her previous annual salary of $51,000.
Seales now gives her OnlyFans subscribers report cards and plays on their "fantasies" involving teachers.
Instagram/@sarahjuree
"Last June, I tried [it] out during the summer vacation. Within a few days, my photos were copied and sent to my employer. I was sent a termination letter, and my 20-year teaching career – and primary source of income – swiftly ended, Seales said.
"The most I've made in a month is $17,000, which happened right after I got fired. Since I was laid off, I've made a total of $75,000," the ex-instructor said.
The ex-teacher was canned within days of opening an account on the racy site, she said.
Instagram/@sarahjuree
"However, my income fluctuates, and I have months ranging from $3,000 to $10,000. I've still had to work very hard to make that much, as it involves a lot of marketing. I promote my OnlyFans page on social-media sites like Facebook."
Seales expressed her nostalgia for teaching children about opportunities in the STEM fields at the Department of Defense-funded school from which she was expelled. Officials claimed that her posing nude on OnlyFans posed an "immediate risk of harm to the reputation or business dealings" of the government facility.
"I absolutely loved my teaching career," she said.
Despite her love for teaching, the pay was so poor that Sarah Seales had to take up several side hustles to support her family. She taught group exercise classes, provided Keto nutrition coaching, tutored children, ran a teeth whitening business, and even designed shirts and mugs, according to her statement.
"I would teach all day and then work on one of my side hustles until I went to bed. I felt constantly stretched and overwhelmed with trying so hard that I'd often cry in the bathtub at night. My kids started calling me 'sad mommy,'" Seales lamented.
"I became increasingly depressed because of the financial stress. Then inflation went sky high – gas prices skyrocketed, my grocery bills doubled, and I became even more financially desperate."
According to the outlet, although selling photos of her body has led her to "financial abundance," it's not all positive for her.
"After taking my kids to school, I spend most of my day responding to messages from fans, shooting and editing content and posting on the platform about four times a day. Fans pay $9.99 a month to view my content. I make it all and do all the admin work myself to keep costs to a minimum, including answering fans' messages," Seales said.
"Being an OnlyFans model has largely been a positive experience, but I got dragged by a lot of Internet trolls who tried to humiliate and body-shame me after I was fired," she said.
"Some people would say I had cellulite or stretch marks, but I have worked hard at building up my confidence, so I don't let them affect me."