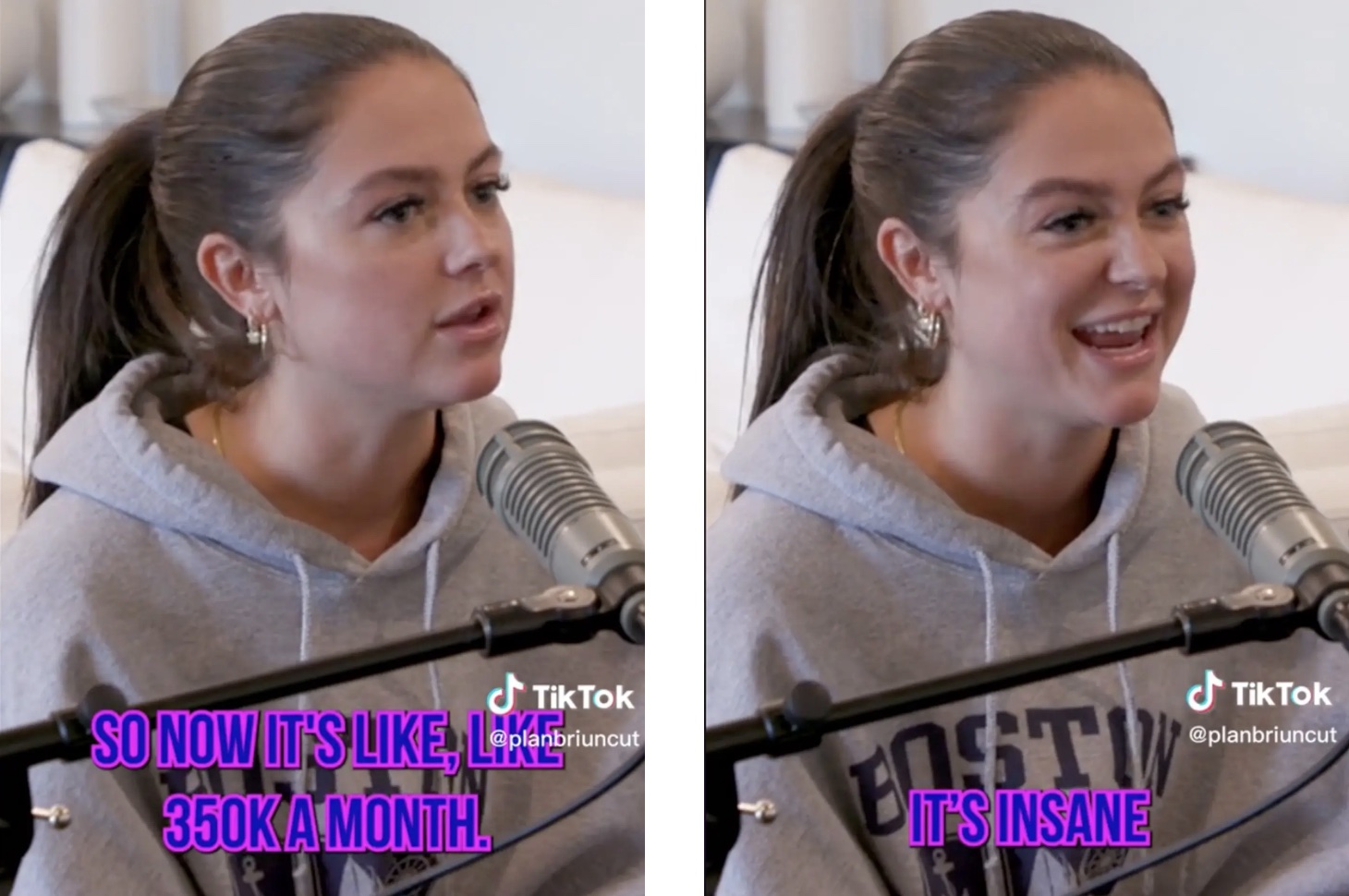 Taraswrld, an influencer on TikTok, asserts that she earns $350,000 per month from OnlyFans.
Mar 12 2023
Since 2019, Tara Lynn, known as Taraswrld on TikTok, has gained almost five million followers on the app. She previously generated controversy on the platform for spending $10,000 on Harry Styles concert tickets.
Aside from TikTok, the LA-based influencer has been selling sexually explicit content on OnlyFans since May 2021. During a recent interview on the Plan Bri Uncut podcast, she left the hosts speechless when they inquired about her earnings. "Up until this past October, I would earn around $100,000 to $150,000 monthly," she revealed.
Women are so lost today. pic.twitter.com/RVlJ67FE9w

— Isabella Riley Moody (@isabellarileyus) March 7, 2023
In a TikTok, I vlogged myself getting prepared for an OnlyFans shoot, and it became incredibly popular. Consequently, I am now earning around $350,000 per month, which is mind-blowing," she said.
She had previously discussed her staggering earnings with Narcity, which equates to roughly $4.2 million per year.
"I like to book a hotel on shoot days and record content for 12-15 hours, allowing me to create a few weeks' worth of content. While waiting for my next shoot, I'll randomly capture any content that comes to mind," she explained in an email to the publication.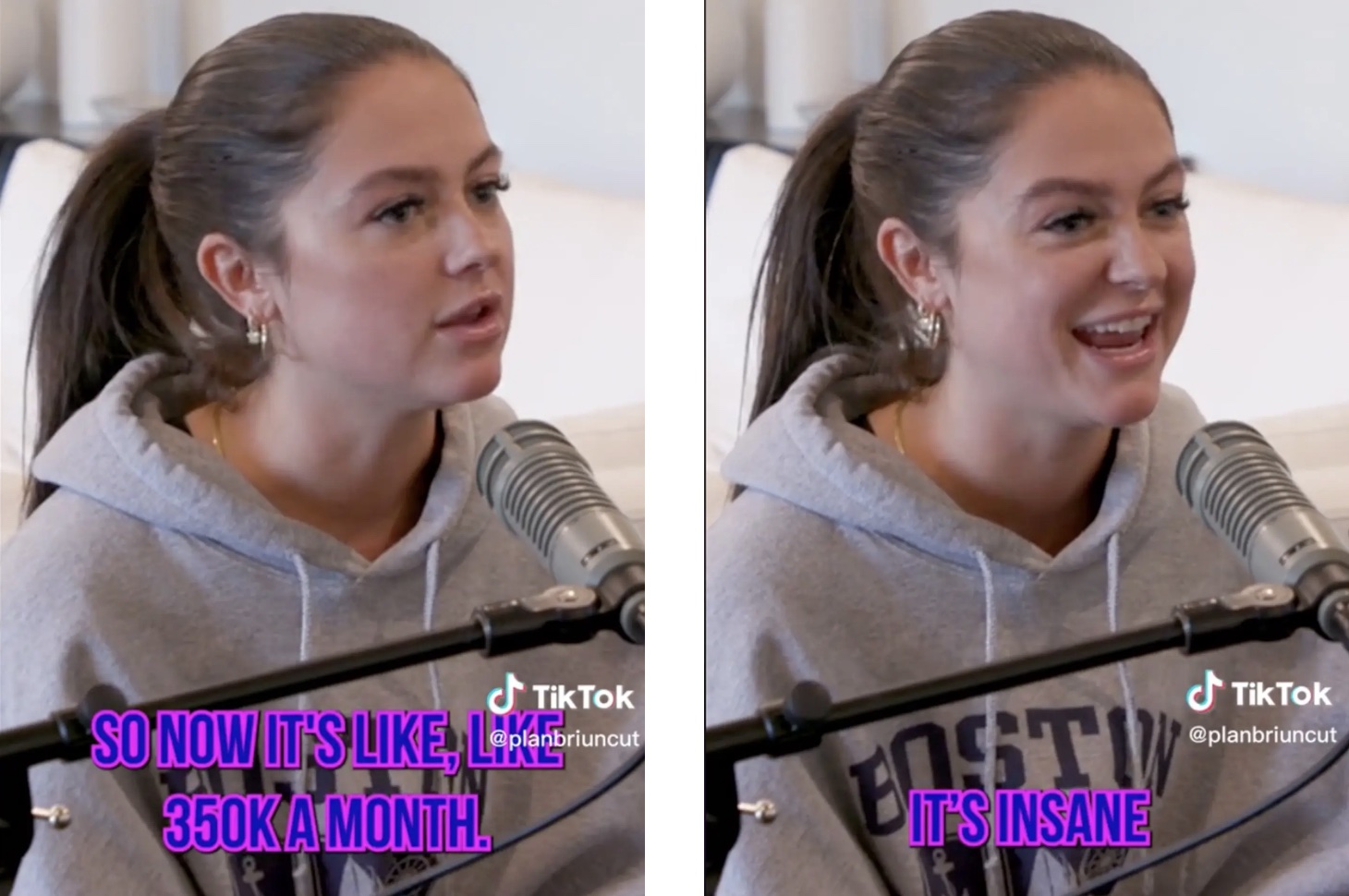 "When it comes to something as intimate as this, I've never used a videographer or a photographer because I believe it's a little impersonal, and it's much more enjoyable for me to do it alone," she stated in the interview.
After being shared by podcast host Isabella Riley Moody, a snippet of the interview went viral on Twitter. "Women are so lost today," she wrote alongside the video.
Responses to the claim were mixed.
"Men are the ones who are lost. She is making huge amounts of money off this, and I kinda respect it," one Twitter user remarked.
Another individual stated, "You're envious because your media personality doesn't earn in a year what she earns in a month."
"A third person stated, "Oh, so now you guys despise capitalism."
However, many agreed with Moody's assessment.
"Much would change in the world if young men cultivated an ethic that it's entirely beneath their dignity to ever pay directly for any sexual service of any kind," author James Lindsay wrote.
One user contended that conservatives "must choose between worshipping free-market capitalism and the social good, between worshipping individual liberty and the social good," adding that "if even one young girl" can make $350,000 a month, "a million more will attempt, regardless of individual or group outcomes."
Some Twitter users questioned Lynn's assertion, noting that other "top earners" on OnlyFans had made similar claims.
In articles promoting the platform last year, British OnlyFans model Sophie Dee quoted the same sum, stating that she had gone from surviving "on welfare" as a child to earning $350,000 a month.
"The $350,000 a month figure is also mentioned by other OnlyFans 'top earners,' and I find that suspicious," one Twitter user remarked.
After reports that Australian rapper Iggy Azalea made over $300,000 in her first day on OnlyFans, the artist clarified that the figure was made up. However, she has defended her move to the site, saying she is earning a substantial amount of money but won't disclose how much. Former Disney actress Bella Thorne has been reported as the top-earning creator on the platform, with an annual income of $11 million. OnlyFans has paid out over $500 million to its owner, Leonid Radvinsky, over the past two years. The site generated $4.8 billion in user spending in the 12 months leading up to September 2021, with pre-tax profits reaching a record high of $432 million, according to recent financial reports.
Full Interview